It was Open Day at Saint Attracta's Senior National School today. All the ninjas at SASNS dojo introduced parents and future pupils of the school to the newly arrived BBC micro:bit. Scratch and Minecraft were also put through their paces. Most of our demos worked!
The Theremin wasn't as musical as we thought but it worked first time.
The girls showed the visitors around and demonstrated various activities. Here Scratch is being shown on a Raspberry Pi 3. The boys also worked hard in the background showing off the 8 Ball and Coin Flipper on the microbit.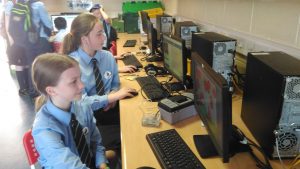 Raspberry Pi and microbit working side by side. What do you think of our new badges?
It was great timing! Our dojo Starter Pack arrived just in time and we put what we had learned on borrowed BBC micro:bits into practice using our new kit.
Wow! A club kit of 10 BBC micro:bits was a great surprise.
Lots of other goodies arrived including our badges but we were too busy to check it all out so that is a post for another day.